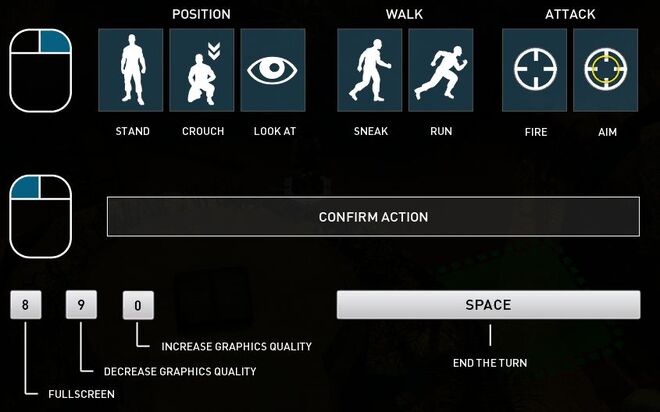 Keyboard commands:
W S A D

ARROW KEYS

move camera
E
focus camera on enemy
I
inventory / skills for selected Merc
M
toggle next Mercenary
P
Frames Per Second (FPS) info box
Q
crouch / stand up
R
reload weapon
X
switch fire mode
1 2 3...
select Mercenary
8
toggle fullscreen
9
decrease graphic quality
0
increase graphic quality
SPACE
end the turn
Esc
quit the mission

TAB

ENTER

use chat
This website is not operated by gamigo AG.
Jagged Alliance Online ©, Jagged Alliance is a protected trademark of bitComposer Games GmbH,
Materials and content of the game are the property of bitComposer Games GmbH;
developed by Cliffhanger Productions Software GmbH, published by gamigo AG, 2011, All rights reserved.
Ad blocker interference detected!
Wikia is a free-to-use site that makes money from advertising. We have a modified experience for viewers using ad blockers

Wikia is not accessible if you've made further modifications. Remove the custom ad blocker rule(s) and the page will load as expected.